« Patron Saint of Miners | Main | Living Social and Chainz Jewellery Complaints »
By admin | September 29, 2011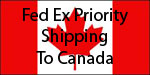 ChainzOnline is pleased to announce we now ship our gold and silver religious jewelry to Canada. All shipping is done via FedEx Priority and typically arrives in 1-3 days.
Topics: Featured Religious Jewelry | 4 Comments »
4 Responses to "Religious Jewelry Canada"
Comments
You must be logged in to post a comment.