By admin | August 1, 2008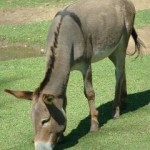 I came across this today and it's simply too cute not to post. The story of the Nativity and why donkeys are emblazoned with a crucifix.
Little Donkeys Special Secret by Suie Roberts
Donkeys are very special animals. Most people have enjoyed a donkey ride at the seaside, zoo or farm at one time or another as a child, a tradition started during the Victorian times. How could anyone resist those cute sad faces, and those extraordinary long eyelashes? But donkeys are special for another reason.
If you are familiar with the story of the nativity you will know that Mary and Joseph had to travel from Nazareth to Bethlehem to be counted, a journey of around 95 kilometers. This was no small distance back in those days when there weren't any motorized vehicles. Additionally the journey was over a hilly terrain, which made the long journey even harder.
Poor Mary was heavily pregnant and the prospect of such a journey must have been daunting. It's little wonder then that she rode a donkey on this long journey.
A special thing happened to the little donkey as it carried its precious load. As the donkey carried Mary and the unborn Son of God, a mark of the crucifix appeared on the donkey's back. The top of the cross starting on the donkey's neck and running down his spine. The shorter line of the cross ran along the donkey's shoulder blades. The sign of the crucifix was given as a reward to the little donkey for the hard work it had endured, getting pregnant Mary safely to Bethlehem.
To this day the little donkey is honored for what he did for God, and all the donkeys bear the sign of the crucifix on their backs. You don't usually see the cross because donkeys at the beach are usually wearing saddles, so small children can ride them. Maybe this is why donkeys look so sad, because their special mark is hidden.
S. Roberts is one of Santa's Helpers and writes for http://www.santaspostbag.co.uk a Christmas educational & activity website. For more festive ideas & gifts to make visit http://www.santaspostbag.co.uk/homemade-christmas-gift-ideas.html
SantasPostbag is in association with http://www.bigboystoyz.com Together keeping Christmas Magical
Topics: Religious Symbols | No Comments »
By DaveS | July 8, 2008
You don't have to look far to find "religion" and "tolerance" inseparably linked. But tolerance goes far beyond any single religious conviction. It encompasses everything, everyday. Age, gender, profession, race, even the foods we choose to eat.
What brought this to mind was a recent forum discussion about tomatoes. Yes, tomatoes. I had replied to question about recipes using tomatoes where 3 of 4 suggestions I offered involved meat. Another participant, clearly passionate about their vegetarian convictions, was saddened by my suggestions referring to me doing so as the "killing fields". I responded by offering non-meat substitutions for the meat ingredients in the recipe ideas I had already provided. I believe each and everyone of us can try and be more tolerant about something in our everyday lives.
The following article by Jinger Jarrett is religious is nature, but it does make some points that I think truly go beyond simply being "religious" when it comes to tolerance…
Topics: Philosophy | 3 Comments »
By DaveS | July 6, 2008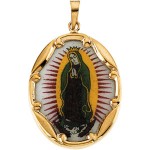 Special religious devotions are those for particular places, individuals, and events that have been said to have taken place in history. One of the more popular devotions is that of Our Lady of Guadalupe, the beloved patroness of Mexico. There's an article on ChainzOnline titled Our Lady of Guadalupe describing the vision and story, and Santca.org is a wonderful site dedicated to the patroness.
The following is an interview with author Ann Ball who wrote The Other Faces of Mary. A terrific book dedicated to the images and stories about Our Lady from all over the world…
Topics: Special Devotions | No Comments »
By admin | July 1, 2008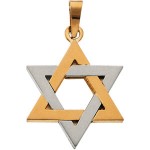 The Story of the Star of David
Author: Amelie Mag
Contrary to all beliefs, the common symbol associated with Judaism today, the Star of David, is a relatively new Jewish symbol. Magen David, as it is called in Hebrew, it is translated literally as the Shield of David. David was the youngest son of the shepherd Jesse of the tribe of Judah. He was known for his skills in both writing psalms and as a fearsome warrior. As a little boy he started with helping his father with attending the sheep that his father owned. But all that changed when king Saul, who summoned the little boy David to sing for him at his palace. He liked his performance and kept David as his personal musician…
Topics: Religious Symbols | No Comments »
By DaveS | June 29, 2008

Like the insatiable curiosity of child asking ""Why?" or "Where did that come from?", people have been discussing and debating the origin of life for as long as… well, as long as there have been discussions. I recently came across a blog article by Bobby Revell that is titled Zen and Enlightenment I found most interesting.
As Bobby writes…
Topics: Philosophy | 4 Comments »
By DaveS | June 27, 2008
Cross Pendants Aren't Simply Two Intersecting Arms
By Angeline Tang
Regardless of whether you are a religious soul or have become interested in the alluring arrangement of its shape, crosses serve as a deep sign of faith and have also become a popular fashion statement. Whether bejeweled with precious stones, 24-karat gold, or sparkling sterling silver, a wealth of crosses are available on the market that allow individuals to express themselves in any way, shape, form, or weight they desire.
Brief History of the Cross The geometric sign that is created when two lines or bars intersect with one another at a 90-degree angle is called a cross. It is this shape that serves as one of the most ancient of all symbols connected to humans. While the icon is often associated with a variety of religions (with great emphasis towards Christianity), the cross is not always meant to denote faith. Sometimes, a cross represents the world, the four elements, unions, and crossroads…
Topics: Religious Symbols | No Comments »
By DaveS | June 26, 2008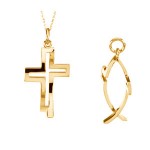 The CrossFish pendant is a very beautiful and interesting religious pendant. A patented 3-D design buy Eyevolver Designs, the CrossFish pendant is a cross when viewed from the front and a fish when viewed from the side.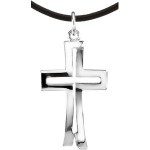 Available in 14K yellow gold, 14K white gold, and sterling silver and in two different sizes. The sterling silver pendant, when purchased from ChainzOnline, includes a black leather cord and a blue suede gift pouch. The image to the left depicts the silver Crossfish pendant when seen from the front.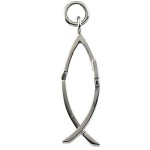 As you can see by the image on the right, when it is seen from the side, the CrossFish pendant depicts a fish. An ancient symbol in the Christian faith that symbolizes Jesus and his followers. Known as Ichthus (sometimes spelled Icthus). The apostles were referred to as fishers of men and hence the fish is a popular symbol worn by those who follow Jesus
Topics: Featured Religious Jewelry | 2 Comments »
By admin | June 25, 2008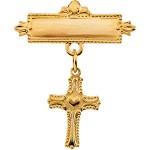 Personalized Baby Gifts – A Great Way To Welcome A New Arrival In The Family
The arrival of a new baby, is often commemorated with a special gift. A personalized baby gift shows that there was a lot of thought behind the gift. And although a personalized gift can cost near to nothing, it will send a very positive message, and will be treasured and cherished for years to come.
Personalized baby gifts can be given for various occasions. These include, but are not limited to, Christenings, Baptisms, baby showers, Christmas, and first birthdays…
Topics: Religious Gifts | 1 Comment »
By admin | June 24, 2008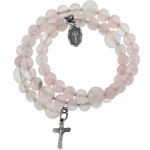 Five Reasons to Pray
First of all, what is prayer? Prayer is the act of communicating with God. It doesn't have to consist of the standard prayers we learned as a child. A prayer can consist of a simple phrase or two. "Lord, I'm thinking of you today. Please brighten my day and assist me in all that I do."
An essential aspect of daily prayer is the belief that you are communicating with God. It is also vitally important that you have faith that your prayers will be answered. There are numerous passages from the bible extolling the virtues of prayer. The bible says:
Topics: Prayers and Praying | No Comments »
By admin | June 23, 2008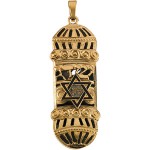 What is a Bar Mitzvah?
Author: Jacob Lumbroso
Ancient Jewish texts convey the idea that along with puberty comes responsibility for one's own actions. The idea of accountability, goes back even further. Samuel ha-Kaman (i.e.the small) wrote at the close of the first century that the completion of the thirteenth year marks the age for responsibility to the commandments.
This concept of responsibility for personal actions and more importantly adherence and fidelity to the covenant of Torah was solidified in most Jewish communities as being generally applicable to girls at age twelve and boys at thirteen…
Topics: Judaism | No Comments »
« Previous Entries
Next Entries »